Oven Repair Parts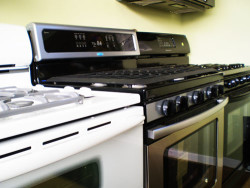 From dangerous safety issues to minor inconveniences, malfunctioning stoves and ovens can derail a household's routine in no time. But quickly returning those home cooking appliances to safe, optimal performance can be as easy as securing and installing the right oven parts. Here at Mike's Appliance Parts, we are pleased to offer both gas and electric oven parts to customers around East Brunswick and across the entire Northeast. Combining a vast inventory of replacement oven parts with our renowned customer service, Mike's Appliance Parts can help match your specific needs with the particular oven repair parts you require. Let us put our 65 years of experience to work for you. Call now for all of your oven replacement parts!
We stock many different oven parts, including:
Knobs and dials
Door gaskets
Igniters
Thermostats
Burners
Heating elements
Gas valves
Electronics, including control boards
Switches and relays
And many more
With our commitment to fast service, these replacement oven parts can be delivered to your door in as little as 24 to 48 hours. That means when you need oven repair parts and you need them quickly, our team is here to take great care of you. We even offer fair pricing, so you can rest assured that you're getting quality components, efficient service, and competitive costs whether you need electric or gas oven parts.
While some appliance parts stores only stock the most common Maytag or GE electric oven parts, Mike's Appliance Parts is your full-service resource for gas and electric stove and oven parts, common and obscure. If you're looking for Viking oven parts, Maytag oven parts, or Amana oven parts, we have what you need. In fact, our inventory includes just about any oven or stove repair part you might need. And if we don't have exactly the brand or component you require in stock, we can get it. After all, our motto is, "We have it, can get it, or the appliance part just isn't made," and we live by that slogan. Your one-stop source for comprehensive oven repair parts in New Jersey and throughout the Northeast, Mike's Appliance Parts provides replacement oven parts for gas and electric models from all brands. Contact us now to learn more.