Dishwasher Repair Parts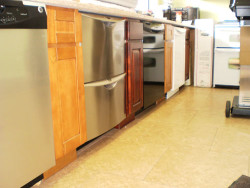 Whether it's leaking, not cleaning dishes, or malfunctioning in another way, a dishwasher that's on the fritz can create major hassles in a household. The good news is that just about every dishwasher performance problem can be eliminated with the appropriate dishwasher repair parts, thus restoring your dishwasher to convenient functionality once again. At Mike's Appliance Parts, our huge selection includes dishwasher parts for all makes and models. If we don't have the GE or Bosch dishwasher parts you need in stock, we'll order them and get them to you ASAP. If we can't get you a particular dishwasher repair part, chances are it doesn't exist! Striving to ensure you get quality dishwasher parts, friendly customer service, and affordable pricing, Mike's Appliance Parts is your comprehensive resource for the best dishwasher replacement parts in New Jersey and the Northeast.
Conveniently located in East Brunswick, Mike's Appliance Parts offers dish washer parts for pickup or delivery across the whole Northeast. Efficient service is one of our trademarks, and we can get the precise dishwasher repair parts you need sent to you in as few as 24 to 48 hours. Faster service on your dishwasher replacement parts means the sooner you can get the appliance repaired and back to effectively cleaning your dishes. Mike's Appliance Parts is ready to be your dishwasher parts store, so pleased don't hesitate to call now!
We offer a broad spectrum of components from all the industry's brands, major or minor. In short, regardless of whether you're in the market for a GE or Maytag dishwasher part or a Bosch dishwasher part, we can help you get exactly what you need. At Mike's Appliance Parts, we make personalized service a part of every client relationship, and we go above and beyond to connect our customers with the exact dishwasher replacement parts they need for their particular model and performance issue. With 65 years of experience in the business, our team has the in-depth dishwasher parts knowledge you can rely on for quality and precision.
Contact us for all types of dishwasher repair parts including:
Motors
Filters
Pumps
Water inlet valves
Float switches
Sprayer arms
Heating elements
Electronics, including control boards and displays
Fuses
Switches and relays, including door switches
We're standing by to assist you with locating the dishwasher replacement parts you require. Mike's Appliance Parts wants to take great care of you with our low prices, high quality, and superior customer service. We're ready to be your one-stop shop for GE dishwasher parts, Maytag dishwasher parts, and so much more!